Hey everyone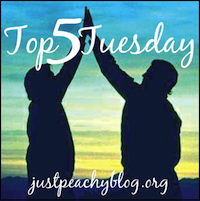 I'm linking up with Rachel from {Just Peachy} today for

Top 5 Tuesday

Today I'm going to be sharing my top 5 summer beauty essentials.
This topic couldn't come at a better time seeing as I am officially on summer break from uni (well, I've actually finished uni entirely but I have a couple of months of break before I start my first big girl job!) and I go on my summer holiday this year to Egypt in just two weeks!
So I've got to get busy and start collecting my favourite beauty products to take with me on my trip!
Here are my top 5 beauty products that are definitely going with me on my summer holiday...
Sun Protection - I am seriously ghost like in terms of my complexion (true story: I went to get matched to a foundation that I was desperate to buy and there wasn't a shade that was pale enough for me!) so it's an absolute requirement for me to wear sun protection otherwise I will burn to a crisp. This year I'm thinking of trying the Hawaiian Tropic range - I'd love to know you what you think of them if you have already tried them!
Self Tanner - I feel obligated to take the edge off my vampire-esque colouring when it gets to summertime and I'm going to be showing more skin (oo-err) and my fave self tanner (that has remained the same for the past couple of summers) to use is the Garnier Summer Body - it's cheap and easy to use - my only requirements for a self tanner :)
Evian Facial /mist- On hot summer days (although they are few and far between in England...) this is my absolute saviour - it cools my down and feels so luxurious!
Vineyard Peach - I fell in love with this scent from the body shop last summer (when it was a limited edition!) and it smells so perfectly summery to me - now that it's back I'm seriously looking into getting the whole line for this summer!
Nivea In-Shower Moisturiser - Moisturising is not my beauty strong point and after spending the day baking in the sun - moisturising is a necessity and this just makes it so easy!
*BONUS MENTION*
I have to give a special mention to the nail polishes that have completely stolen my heart at the moment and I predict for summer 2014 - the Model's Own Polish For Tans collection is just stunning! It's a five polish collection of neons that have a white base already in them (so it saves you having to apply a white polish under neons - that step really annoys me!) that really do make you look like you have a tan. Seriously though - I tested this out by asking the bf if he could notice a difference and he totally could!
If that isn't testament to a a product living up to its description then I don't know what is!
What are your Summer Beauty Essentials?
Lemme know in the comments!