Hey everyone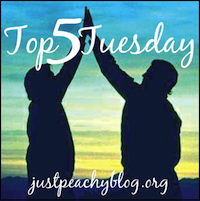 I'm linking up with Rachel from {Just Peachy} today for

Top 5 Tuesday

Today I'm going to be sharing my top 5 summer beach reads.
This topic couldn't come at a better time seeing as I have just had a massive purchasing session on amazon for ebooks to load up my Kindle with for my summer holiday (I off to Egypt for two weeks on Friday!!)
Here are my top 5 summer beach reads that I'm most looking forward to reading this summer...
The Lunar Chronicles Series by Marissa Meyer
Rules of Summer by Joanna Philbin
Bones are Forever by Kathy Reichs
Anna and the French Kiss by Stephanie Perkins
Tan Lines by JJ Salem
What are the books that you're going to be reading this summer?
I'm always looking for book recommendations so please lemme know in the comments!